AMISIKI FLYER SHUFFLE! Vol.1
AMISIKI FLYER SHUFFLE! Vol.1 | ZINE(2016)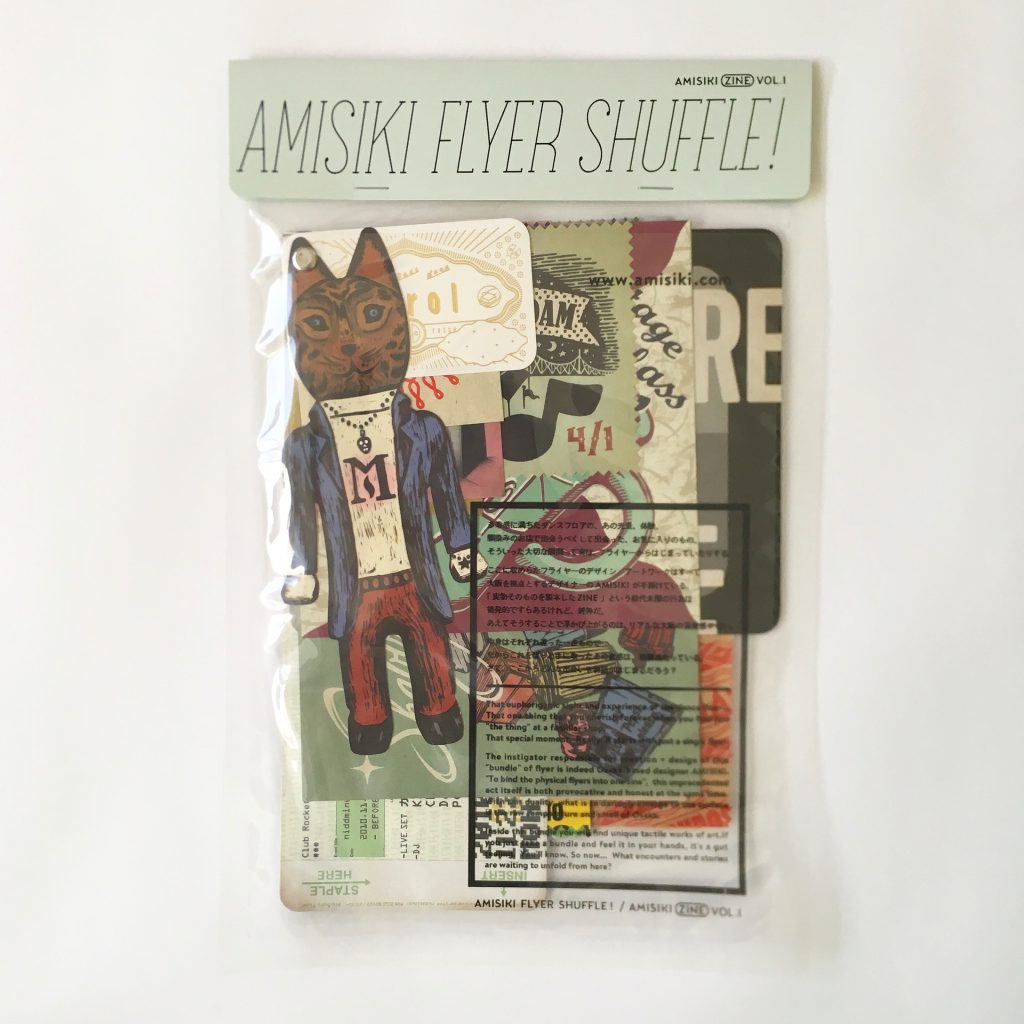 多幸感に満ちたダンスフロアの、あの光景、体験。
馴染みのお店で出会うべくして出会った、お気に入りのもの。
そういった大切な瞬間って実は、フライヤーからはじまっていたりする。
ここに収めらたフライヤーのデザイン/アートワークはすべて、
大阪を拠点とするデザイナーのAMISIKIが手掛けている。
「実物そのものを製本したZINE」という前代未聞の行為は、
挑発的ですらあるけれど、純粋だ。
あえてそうすることで浮かび上がるのは、リアルな大阪の温度感や匂い。
中身はそれぞれ違った一点もので、
だからこれをぱっと手に取ったその直感は、結構当たっている。
さて。ここからどんな出会いや物語がはじまるだろう?
That euphorigenic sight and experience of the dance floor…
That one thing that you cherish forever when you find just "the thing" at a familiar shop
That special moment. Really, it starts with just a single flyer.
The instigator responsible for creation + design of this "bundle" of flyer is indeed Osaka-based designer AMISIKI. "To bind the physical flyers into one zine", this unprecedented act itself is both provocative and honest at the same time. With this duality, what is to daringly emerge to the surface is the raw temperature and smell of Osaka.
Inside this bundle you will find unique tactile works of art.
If you just take a bundle and feel it in your hands, it's a gut feeling. You'll know.
So now… What encounters and stories are waiting to unfold from here?